A long serial number inscribed on a device as small as a USB thumb drive would be microscopic, but you can put away your reading glasses because that's not usually where it's found.
A few USB device serial numbers might be found in the device's Properties. Go to Windows Explorer and right-click on the USB drive and select "Properties." In the "Details" tab, several properties are listed in a drop-down list, but "Serial Number" is often not one of them.
The surest way to track down that serial number is to use a utility called USBDeview, a handy tool to find information about USB devices both currently and previously connected to your PC.
Step 1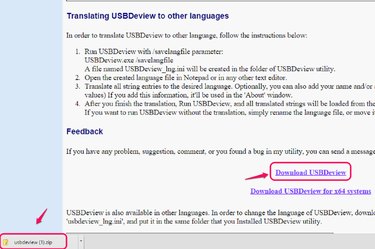 Insert your flash drive into your USB port. In your browser, go to NirSoft's website to download USBDeview. Download links for both 32-bit and 64-bit versions are at the bottom of the page. Click on the appropriate version for your system to download and open it.
Step 2
Double-click on the USBDeview file with the "Application" descriptor and click "Run" in the dialog box. You do not need to extract the files; just run the executable file. This utility does not need to be installed. It stands alone as an executable file to do the job you need.
Step 3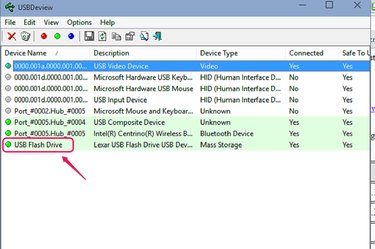 Find your USB device in the list and double click on it to open its Properties window. Note that the list also includes previously-connected devices, with the Connected column indicating which devices are currently connected.
Step 4
Find the serial number in the fifth field down in the first column.