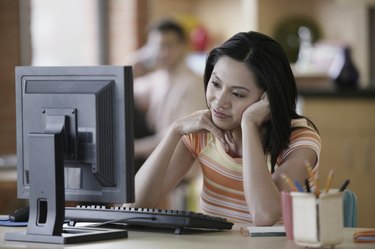 Whether pulled out of a dusty shoe box in the attic or snagged from a friend of a friend of a friend on social media, the origin of a photo is a puzzle with more than one solution. The Internet can give you a hand, both through automated search tools and by enabling you to ask people all over the world for help, but finding the answer you seek is never a guarantee.
Digitizing the Image
The first step is to make sure the photo is in digital format. If you don't own a scanner, you may find one at your nearest library or in a store's photo department. In a pinch, take a photo of your photo with your smartphone or tablet, but only as a last resort since this degrades the quality of the photo, potentially obscuring key details with shadows or reflections.
Using Automated Tools
Using automated search tools such as Google Images or TinEye is as easy as uploading the image to the service or pasting in the URL, if available, and waiting for the results.These tools apply recognition techniques to the image, comparing it against their own database; this makes them ideal for identifying images that would have been widely spread, such as photos of famous landmarks or people, stock images, photos related to news stories.
Understanding the Limitations of Automated Tools
Because automated image search tools are based on databases, they won't be able to help you identify obscure or personal images, such as old photos of your family. Even in the case of well-known locations or celebrities, these tools may only be able to identify the image's subject but not find the original source in such cases as, for instance, an amateur photo of a singer snapped by a fan during a concert. Also, some images are too new to have been added to the database.
Asking for Help
If automated tools could not identify your image, ask other people for help. For example, to pinpoint time and location of a photo of your great-grandparents, you might ask on an online forum or website dedicated to ancestry or genealogy; for a photo of a celebrity, on the other hand, you will have better luck asking fans of that celebrity. Similarly, for a photo containing a tree, a car and a bird, you'd ask car enthusiasts for the car model, botanists or gardening enthusiasts to identify the tree, and bird enthusiasts for the species of the bird.
If all else fails, post the image on social media and ask your friends and followers to share. With any luck, the image will eventually reach somebody who knows the answer to your question.