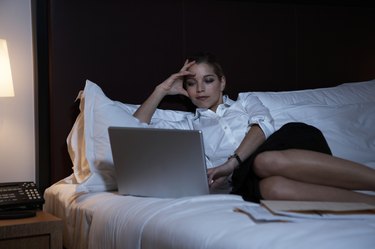 After you upload an image to the Internet, controlling where and how it is used is a difficult task. While you can't control whether other people save your image, you can try to find out if anyone is using your photo as a profile picture without your permission. You no longer need to pore over different websites in hope that you might catch the culprit by sheer luck. Reverse image search tools search the Internet for a specific image and show you every website on which it appears.
Start a Reverse Image Search
Reverse image search tools include Google, TinEye and ImageRaider. Start a search by uploading the image or pasting the URL of the image into the image search screen. Regardless of the option you choose, the search process is the same; the tool accesses its database of images and shows any matches along with the websites where they are located. These results often include variations in size and color, so you see results even if someone changed your image slightly.
Expand Your Search
Although reverse image searches are infinitely more convenient than looking around the Internet yourself, they aren't perfect. Complex modifications prevent search tools from identifying photos. If your image is closely cropped or flipped horizontally, the search engine may not recognize it. To aid in your search, use any variations of the image you have and also search for a flipped version of the image. If your search turns up no results, your picture may not appear on another person's profile, or perhaps the image hasn't been indexed yet; try again later to check for updates.