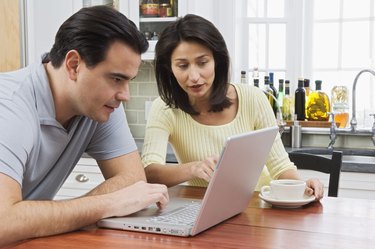 Although a TV tuner is one of the more entertaining hardware peripherals that can be installed in a computer, they have yet to gain widespread acceptance among many computer owners, perhaps because it it is difficult to truly appreciate a TV tuner unless a computer has two monitors installed. If your computer has a TV tuner installed, you can watch television on your computer by connecting an antenna or cable input. Check for a TV tuner to find out if you can watch live broadcast television on your PC.
Step 1
Examine the external devices connected to your computer to see their labels. External devices are generally the easiest to identify, as they will be labeled with their purpose. An external TV tuner will say "TV Tuner" somewhere on the device.
Step 2
Examine the Windows device manager by pressing the Windows logo and "R" keys on the keyboard simultaneously then typing "devmgmt.msc" into the "Run" box. Expand the "Sound, video and game controllers" category. If you have a TV tuner installed, it will generally be listed here with "TV" or "Tuner" somewhere in the title.
Step 3
Examine the back of your computer for any signs of a TV tuner. A TV tuner will generally have at least one coaxial input so the card can be connected to an antenna or cable service. Some TV tuners also function as video capture devices, and will have additional inputs such as composite (RCA) or S-Video ports.
Step 4
Open your computer as a last resort if you are still uncertain as to whether your computer has a TV tuner after following the previous three steps. Because a TV tuner can generate interference from being close to the other sensitive components on the inside of the computer, a TV tuner will nearly always have a metal shielding box over the actual tuner component of the card.