Some older laptops had an infrared (IR) port installed. This port was similar to Blutooth technology. Computers are able to connect directly using the IR port. The only difference was that IR ports needed to align to keep communication between the two laptops. An IR port is visible on the laptop, but you can also view the system properties in the Windows device manager to verify whether an IR port is installed.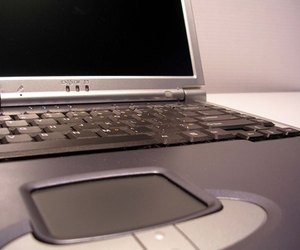 Step
View the back of your laptop. An infrared port is a small, dark red window on the back of the laptop's case. If you are still unsure, you can use the system properties to verify whether you have an infrared port.
Step
Click the Windows "Start" button and select "Control Panel." Select "Performance and Maintenance." In the window that opens, double-click the "System" icon to open the system properties.
Step
Click the "Hardware" tab. In this screen, click the "Device Manager" button. View the list of devices configured on the machine. If one of the devices listed is "Infrared Devices," you know the laptop has IR capabilities.