From shady neighbors to potential baby sitters, it's a smart move to check and see if someone has a criminal record before entrusting them with the safety of your property or family members. A quick search online will give you access to hundreds of paid services that perform background checks, but you don't need them. If you know where to look, you can search for criminal records without ever paying a dime.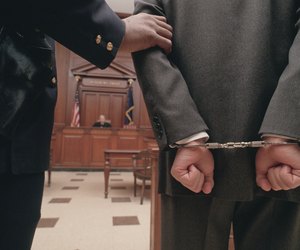 credit: Comstock/Comstock/Getty Images
Where to Start
Before you can locate someone's criminal records, you will need to identify who they are. At a bare minimum, you will need to know the individual's first and last name, including the correct spelling. More information is better, however, and if you know the individual's address, phone number or address of a previous residence, it will be much easier to find the information for which you are looking. Records will be even easier to locate if you can obtain the subject's date of birth and Social Security number, but take care not to break the law yourself to obtain this information.
Cast a Wide Net
While paid investigation services will narrow down a person's records easily, doing your own research through free resources will require you to start a broad search. Nationwide search engines may be used to find more information about the subject, and nationwide criminal searches can be performed. One free tool to use is CriminalSearches.com, which provides a free nationwide search of criminal records and sex offender registries.
Search by State, County and City
Get a listing of all the portals for criminal searches at PublicRecordsInfo.com, which gives users a list of public record sources by state. The criminal record search gives you links to local law enforcement, bureaus of prisons and other publicly available information. Other search options cover court records, business licensing and even tax information.
Registered Sex Offenders
For crimes that are sexual in nature, most past offenders are required to register the address of their current residence, information which is made publicly available. Two powerful but easy-to-use tools are the National Sex Offender Public Website (NSOPW) run by the Department of Justice, and FamilyWatchDog.com, which also offers a national registry search.
For a state by state search, the website Prevent-Abuse-Now.com offers a list of each state's local registry. State searches may prove more fruitful than national searches, as registry records are usually updated at the state level before the national listings.
Confirm Identity
In this country, with a population of more than 300 million people, it is more than likely that your subject shared a first and last name with at least one other person. If this is the case, online searches may turn up records for the other person with the same name. Learn to distinguish between these individuals by learning the subject's middle name or initial, obtaining a photograph or mugshot of the subject, or confirming his or her current address.
Using Information
Finding out if an individual has a criminal background can be a huge help in determining who to trust as a neighbor, employee or baby sitter, but there are limits to what can be done with this information. Using criminal record searches and background checks to harass or stalk an individual is illegal, and many other actions are legally questionable. Using criminal background information to discriminate against a customer may not be legal. Sharing a person's record with others may open you up to a slander or libel lawsuit, depending on the circumstances. In general, it's best to treat this information delicately and to keep it to yourself unless the subject poses a risk to others.