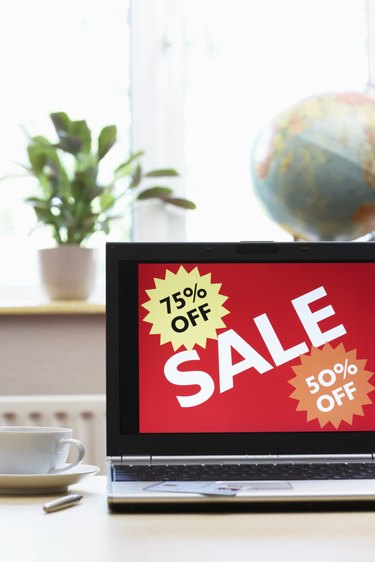 Like most modern Web browsers, Internet Explorer 11 has its own built-in pop-up blocker designed to stop those pesky pop-up windows from appearing and obstructing your view. Enable the pop-up blocker and adjust its settings using the Internet Options panel in Internet Explorer.
Turning the Pop-Up Blocker On and Off
Unlike some Web browsers, you need to enable Internet Explorer's pop-up blocker since it is not active automatically. Press the "Windows" key on your keyboard to return to your Windows 8 desktop. Click the "Internet Explorer" icon on the task bar, click the "Tools" icon (which resembles a mechanical gear) and select "Internet Options." Click the "Privacy" tab and place a check mark in the "Turn On Pop-up Blocker" check box under the Pop-up Blocker heading. If you want to disable the pop-up blocker in the future, remove the check from this box.
Blocking All Pop-Ups
Internet Explorer's pop-up blocker doesn't block all pop-ups by default. It permits pop-ups from sites in your Local intranet and Trusted security zones. Open the Internet Options panel again to change the pop-up blocker's blocking level in order to stop all pop-ups. Click the "Privacy" tab and select "Settings" under the Pop-up Blocker heading. Set the blocking level to "High: Block All Pop-ups," click "Close" and then press "OK" to save your changes.
Overriding the Pop-Up Blocker and Adding Exceptions
Internet Explorer enables you to override even the highest blocking levels manually. When you're on a page you know is trying to load a pop-up window you want to see, press "Ctrl" and "Alt" on your keyboard simultaneously to permit the pop-up to load. You can also add sites to Internet Explorer's Allowed Sites list via the "Sites" button under the Privacy tab on the Internet Options panel. Sites you add to this list are always allowed to display pop-ups regardless of the overall blocking level.
More Information About Pop-Ups and Pop-Unders
Because they're often used to display ads, most pop-ups load over the top of your current browser window so that you're more likely to see them. Occasionally, however, some windows load behind. These are called pop-unders. Internet Explorer blocks both pop-ups and pop-unders. Although many websites use pop-up windows to display ads, not all pop-ups are necessarily bad. Occasionally a website will use a pop-up window to display important information. If you suspect a website might be trying to load an important pop-up, press "Ctrl" and "Alt" to let it load.