Yahoo ended its Mail Classic service in June 2013. Although you can't switch back, you can still find many Classic elements in the current version of Yahoo Mail along with a plethora of useful new features. As of November 2014, Yahoo also provides an option to switch to a Classic-like version of Mail called Basic Mail.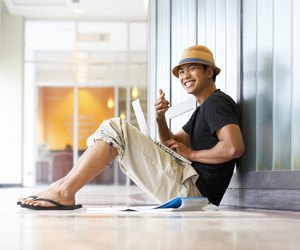 credit: Purestock/Purestock/Getty Images
Modifications to Mail Classic
When Yahoo updated Mail from the last version of Classic, it mostly made cosmetic changes to the user interface, moved around the names and locations of some tools and menus and added new features. For example, it reduced the size of the top navigation tabs, replaced the text labels with icons and added Messenger and Mail for Mobile tabs. It gave users the ability to follow conversations in email threads and added features from its former paid Mail Plus service like automatic email forwarding, POP access, disposable email address and extra filters. After the initial roll-out, Yahoo also restored some removed features with upgrades at user request, such as open email tabs with an option to view all open tabs at the same time as thumbnails.
Alternative to Standard Mail
Basic Mail has a user interface that looks somewhat like Classic and fewer advanced features. To switch at any time, roll your cursor over the gear icon, select "Settings," select "Basic" in the Mail Version section and then click "Save." If an error occurs, clear the cache and cookies, restart your browser and try again. Basic Mail is also the only version available if you're younger than 13 years old, you don't have JavaScript enabled for your browser or you're using an unsupported browser, smaller screen resolution or low bandwidth. It can also automatically appear, or a message prompting you to switch to it, if standard Mail has difficulty loading because of network congestion, computer resources overuse or issues on Yahoo's end (links in Resources).