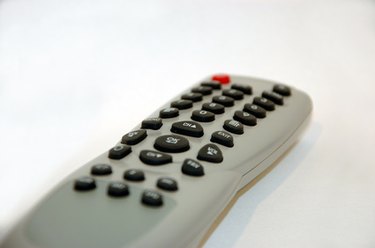 Misplacing the remote control to your television can be both inconvenient and frustrating to deal with. Luckily, modern televisions offer may different alternatives to using the factory remote to control your TV. A simple and general process for controlling your TV when you have misplaced the remote can be applied to any TV regardless of brand, including Durabrand. The process will allow you to be back in control of your TV in no time.
Step 1
Use TV front panel buttons. This is the simplest way of controlling your TV when you no longer have the remote control. While the front panel of the TV will most likely not have all the same buttons your remote had, you can at least control the basic functions (channel, volume, power, mute, etc.).
Step 2
Use a VCR as a pass-through device. If you don't like the inconvenience of having to walk up to the front panel of your TV to change channels, you can alternatively use a VCR as a pass-through device. Simply locate the coaxial cable coming in from your wall coaxial jack and unscrew it fro the coaxial connection on the back of your TV. Screw it onto the coaxial input jack on your VCR and attach a second cable from the coaxial outlet on your VCR to your TV's coaxial connection. Leave the TV set to channel 3 and you can now use your VCR's remote to change channels.
Step 3
Purchase and program a universal remote. A final alternative is to purchase one of the many universal remotes available at electronics departments or electronics stores. Program the remote to your TV according to the instructions that come with the remote, and you should now be able to control most or all of the TV's functions.