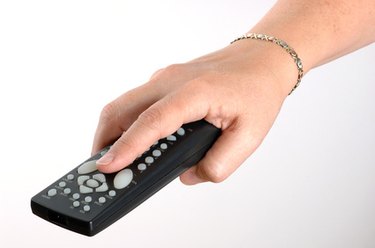 The Emerson DVD/VCR combo device allows you to play both DVD and VHS movies on your television without connecting two different devices to the TV. This also saves a connection port on the television, giving you the ability to connect additional content to the TV. Without a remote you can still use the device because all the necessary buttons on the DVD/VCR combo are built into the player.
Step 1
Power on the television. Press the "Video" button on the television and the content from the Emerson DVD/VCR appears on the screen.
Step 2
Select either "DVD" or "VCR" on the Emerson player, depending on what part of the combo device you want to use.
Step 3
Insert the DVD or VHS into the Emerson hardware.
Step 4
Push "Play." All of the control buttons function for both the DVD and VCR side of the player.
Step 5
When the DVD loads (if watching a DVD) use the fast forward and rewind buttons to skip through the selection menu. Press "Play" again to play the DVD. If watching a VHS the movie is going to begin to play from the first time you pressed play.