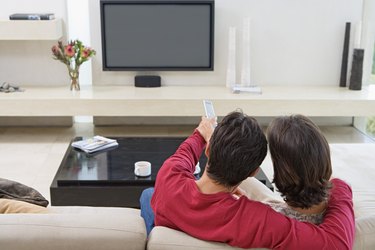 Many televisions support "Picture-In-Picture," a feature that allows you to watch two different channels on one screen. PIP is useful for checking on sports or news without missing the current show. The Verizon FiOS remote control has a dedicated button that lets you quickly turn on PIP while you are watching TV.
Step 1
Press the "Power" button on the FiOS remote control. The television turns on.
Step 2
Push the "TV" button near the top of the remote and the device enters TV mode.
Step 3
Locate the button labeled "PIP" near the bottom of the FiOS remote marked with two squares. Press the button to activate PIP on the TV.
Things You'll Need
Verizon FiOS

FiOS Remote Control
Tip
Your TV must have the PIP feature in order for the picture-in-picture to appear. The PIP button on the FiOS remote may not work if your TV does not support it.