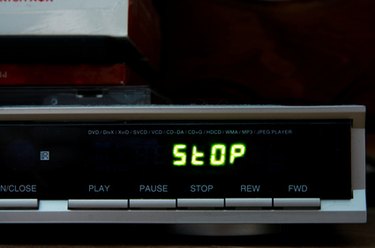 Toshiba is an electronics company that produces a large range of products, including TVs, DVD players and computers. If you have a Toshiba DVD player you can connect it to any make or model of television and watch your DVD movies. Although the device does come with a remote control you can play the movies without the DVD remote.
Step 1
Plug a set of RCA cables into the "Video Out" port on the back of the Toshiba DVD player. Insert the opposite end of the RCA cables into the "Video In" port on your television.
Step 2
Power on the Toshiba DVD player and the TV. Push the "Video" button on the TV to view the content from the DVD player
Step 3
Insert a DVD movie into the DVD player. Wait for the startup screen to load.
Step 4
Push "Play" on the DVD player, and the movie will start. Press "Next" or "Last" to change scenes or chapters. There are also the "Fast Forward" and "Rewind" buttons to move back and forth in a particular scene.
Step 5
To stop the DVD movie press "Stop." Push "Eject" to remove the DVD from the Toshiba DVD player.