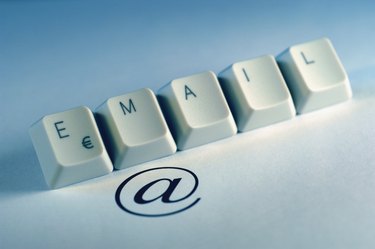 The Internet has changed the style, speed and quality of interpersonal communication. While the Internet is an excellent tool for productivity and keeping in touch, it hinders proper communication in certain situations. Communicating without the benefit of tone, inflection, facial expressions and body language poses a true challenge. By considering the effect Internet communication has on your daily life, learn to harness the power of social networking sites, email and instant messaging to improve relationships.
Instant Gratification
Connectivity to the Internet often means you're always plugged in; the ability to get in touch with friends, family members and coworkers is present nearly any time of the day. If you have a thought, it's easy to shoot off a quick email or post a message on Facebook. Gone are the days when you'd need to wait for a letter to arrive in the mail or wait for someone to call you back. Instant gratification means you communicate in hopes of quick results, reactions and answers, notes psychologist Michael Osit in his book, "Generation Text."
Short and Sweet
Facebook and Twitter limit the amount of characters per post. Email communication benefits from short, simple messages. Since typing can be cumbersome, abbreviations are often used to convey messages; these informal abbreviations give communication a much more casual appearance. Adjusting the length and style of your communication online may be necessary when dealing with certain individuals; however, in general, short, to-the-point messages rule in online communication. This can be an issue when the idea of drafting a formal letter or expressing yourself vocally is necessary. Still, receiving quick, short messages can be helpful when you need a minimal amount of information.
Message and Tone
It's notoriously difficult to interpret tone through the written or typed word, especially when sent through casual channels, such as social networking sites or instant messaging services. Since the written word lacks inflection, your message could be distorted by your writing style, which is why sarcasm and other humor devices are less effective through online communication. Having your message confused could cause problems between you and the recipient.
Real-Life and Online Communication
Using the Internet for communication affords a certain degree of anonymity. Even when contacting someone you know well, using email to deliver a message can help diffuse awkward situations or soften a blow. Unfortunately, this method of avoiding confrontation can become troublesome if substituted for proper conflict management. As long as Internet communication does not act as a replacement for real-life communication, the two can be used together to transfer information, resolve conflict and perpetuate clearer communication.