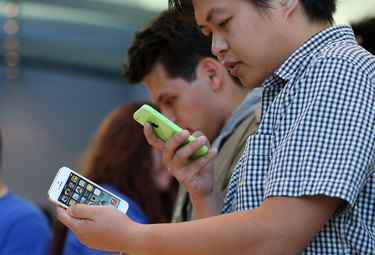 The iPhone's call history displays all calls that you have made and received, including those you have missed. In addition to viewing the phone number, call date and the type of call or caller location for each entry in the call history, you can perform several actions by viewing a call's detailed information. For example, you can add the phone number to your contacts, block the caller, dial the number, send a text message or initiate a FaceTime call. You can also clear your call history.
Step 1
Tap the "Phone" icon on your iPhone's home screen.
Step 2
Tap "Recents" to view a list of the phone calls you have made and received. If you want to see only the calls you have missed, tap the "Missed" tab to see a filtered list. You can tap the "All" tab at any time to switch back to the full call history.
Step 3
Tap the blue circle icon with the letter "i" in it to view information about a specific call that appears in one of the lists. You'll be presented with several options, including blocking the caller, returning the call and adding the number as a contact. Tap "Recents" to return to the list after you view the call's details.
Tip
You can clear the entire call list. When you're viewing the call history list, tap "Edit" and then tap "Clear." Tap "Clear All Recents" to remove all calls from the list. You can clear individual calls by tapping the red circle beside a call and then tapping "Delete."
You can also check your call history by pressing and holding the "Home" button to launch Siri. Say "Check my call history" for a list of recent calls.