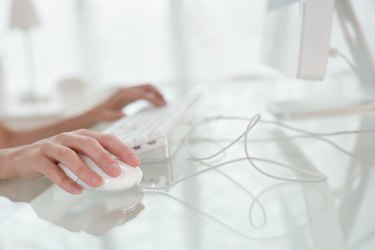 If you have a time-sensitive document or you just want to prove that you completed a document on a certain date, you should add a date and time stamp to your PDF. While it is possible to simply type the date and time into your document and then convert it to PDF, it's best to add a stamp that pulls this information (at least the date) directly from your server.
Dynamic Date & Time Stamp
Step 1
Click "Comments" then "Show Comment & Markup Toolbar" on your Acrobat main menu. This will bring up the markup toolbar in your workspace.
Step 2
Select the "Stamp Tool" box. Choose a stamp style--make sure that it includes both the date and time.
Step 3
Click the stamp style to insert it into your document. The program inserts it at the top or middle of your document. Select the "Hand Tool" from your toolbar at the top of the screen to change the positioning of the stamp.
Header/Footer
Step 1
Navigate to "Document" then "Header/Footer" then "Add" on the Acrobat main menu. This will bring up a dialog box where you can edit your header and footer options.
Step 2
Position your mouse in the header or footer box where you want the date stamp to appear. You can add it to the left, right, or center of the top (header) or bottom (footer) of the page.
Step 3
Click "Page Number and Date Format." Adjust the options to show the date information in the format of your choice, then click "OK."
Step 4
Press "Insert Date," which will create an automatic date field in the header or footer box that you chose in Step 2. This will stamp your document with the date of creation. Type in the current time right next to the date field. (It is not possible for the program to pull the time into the header or footer automatically using this method).
Step 5
Click "Apply to Multiple" if you want the stamp to appear on every page of your PDF, or just click "OK" to add the stamp to the current page.