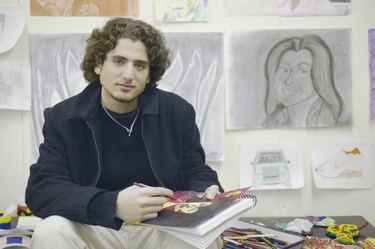 In 2013, LinkedIn lowered its member age limit to 13, opening the door for high school students to begin their business networking and branding before college. Now your extracurricular activities, after-school clubs, volunteer efforts and achievements can begin building your resume before you graduate. But first, you must create a profile and edit its various sections, including the name of your high school.
Adding a School To Your Education History
According to LinkedIn, "Members with a school on their profile get 7 times more profile views." By hovering over "Profile" on the navigation bar at the top of LinkedIn, you can choose "Edit Profile" and update your Education section. Click "Add Education" at the top or bottom of this section and type in the details of the school you attended. The School field is required and will auto-complete as you type if the school is on LinkedIn's list. Click "Save" when you're finished to add the school to your profile.
Building a LinkedIn Student Profile
LinkedIn offers tip sheets for students who wish to build an effective profile early in their education and employment history. Suggestions include a professional profile picture, frequent status updates, including Skills and Recommendations, joining LinkedIn Groups, and claiming a unique LinkedIn URL. The more you showcase your education, activities and skills, the more valuable your LinkedIn profile will become, regardless of your age.
Where Are All the High Schools?
Since LinkedIn just lowered the age limit, there are fewer high schools listed than colleges. If you don't see your school in the drop-down list, add it to your profile anyway. LinkedIn lists schools based on how many people add the institution to their profiles. If you attended a tiny high school, it might never be added to the list.
What Are University Pages?
LinkedIn's University Pages feature gives colleges a chance to highlight their offerings for prospective students. In turn, students can view colleges from around the world to see what a school looks like, how much it costs to attend, what percentage of students receive financial aid, and the industries where the graduates work.
Additionally, the University Pages show who has recommended the school, how many of your LinkedIn connections have attended, and which notable figures are associated with the university. For example, Stanford University's "Notables" page lists Melissa Mayer, President and CEO of Yahoo, and former presidential candidate Mitt Romney.