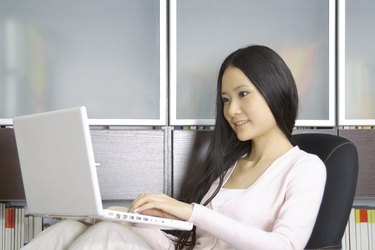 While editing PDF files can be tricky, you can easily add text to a PDF file using various free methods. If you only need to add annotations to the document's margins or blank spaces, you can use an online or desktop editor without ruining your document's layout. If you need to add text in the middle of the document body, you must take care not to throw your document out of alignment. PDF files with multiple columns and other sophisticated formatting generally don't hold up well to reformatting.
Online PDF Editors
Step 1
Visit a website such as PDFEscape, PDF Buddy or PDFZen (links in Resources). These sites offer free services that work well for simple PDF edits, although more in-depth edits probably require a desktop-based editor. Click the upload button on the site's main page to upload a PDF file to the editor.
Step 2
Select the "Text" tool, click an area of the PDF where you want to add text and then type some text to add it to the document. Each of these online PDF editors works essentially the same way. You can use them to erase text, add annotations and create forms, but not to change the document's layout.
Step 3
Click "Download" to save the annotated PDF file to your computer. Each of these sites offers its services for free without the need to create an account, so you don't need to sign in before downloading your PDF.
Desktop Editors
Step 1
Download a free PDF editor such as PDF24 Creator, PDFEdit or Free PDF Editor (links in Resources). These programs offer mostly the same features as the online PDF editors, although PDF24 Creator has a few additional features, such as the ability to split and merge files. This feature enables you to add text to the middle of a document without erasing existing text.
Step 2
Launch your PDF editor and click "Open" to load a PDF file. Each program's interface includes a similar menu of buttons in the toolbar that resembles a word processor's toolbar menu. The Open button in each application looks like a folder icon.
Step 3
Select the "Text" tool, click a blank area of the document and type the text you want to add. Editing PDF files using the graphical editing tools works similarly to editing a text document in a word processor, except that PDF files don't have line numbers, so clicking the document body moves the cursor according to the document's relative dimensions.
Step 4
Click "New" to create a new document if you're using PDF24 Creator. Split your PDF document by left-clicking a page, dragging it to the new document and releasing it. Using this method, you can add text to the middle of a document without losing its formatting. To merge two documents, drag pages from one document to the blank area at the end of the other document.
Tip
With a desktop PDF editor, you can choose any font on your computer, whereas a Web-based editor only offers a small selection of your browser's default fonts. Unless your PDF document contains Arial or Times New Roman fonts, you must use a desktop editor to match the original.