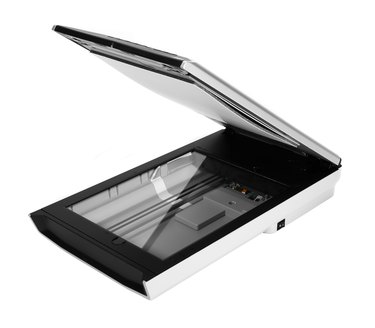 Say you are putting together a series of photos, news clippings or documents that are all in hard copy form. You can scan each file individually and then combine them into one convenient PDF file. Of course, you can also combine them into other file types, like Microsoft Word or PowerPoint, but the process is a lot messier and difficult to format. Besides, most scanners allow you to scan in a document or picture as a PDF file automatically, so PDF is more convenient.
Step 1
Open your scanner software program.
Step 2
Open Adobe Acrobat. Click on "File," then "Create PDF From Scanner" (or, in newer versions, click on "Document," then "Scan to PDF"). Select your scanner's name from the drop-down menu. The Acrobat program syncs up with your scanner's software to save your files as PDFs. Keep Acrobat up on screen.
Step 3
Scan your first document into the computer. When it finishes loading, a dialog box from your scanner program will pop up to confirm your scan settings. Press "OK" to continue.
Step 4
Repeat Step 3 for each of the pages that you need to scan. Save each page as an individual file that can be identified easily in a new folder (preferably page1.pdf, page2.pdf and so on). Close all of the files once they are saved and remember the location.
Step 5
Click "File," then "Combine Files" on your Acrobat menu. Select the option to merge a group of files into one PDF file.
Step 6
Click "Add Files" and find the file folder where you saved all your individual PDF files. Select the folder and click "OK." You can also select each PDF file individually. Organize the individual files into the correct order by pressing the "Move Up" and "Move Down" buttons. You can also remove files that you don't need any longer.
Step 7
Click "Combine Files" when you have everything assembled and ordered. Your multiple scanned PDFs will convert into one PDF file.