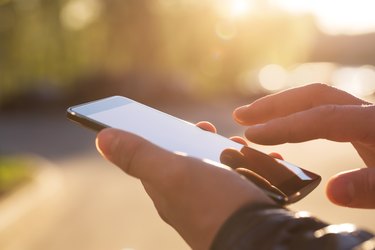 The download settings for android are critical for minimizing data use while still downloading media and maximizing the capabilities of your smartphone. You can download movies to watch out of service, download or transfer documents and download music or other media easily. Large files, however, can zap your data and cause your provider to throttle down the overall phone speeds. In some cases, this makes it so slow you can barely check email and perform basic data-dependent tasks. You can make a phone call and send and receive text messages without any issues but all other tasks requiring connectivity will experience horrible speed.
Download Manager Settings for Android
Most Android phones are defaulted to only download large files on Wi-Fi to automatically protect your data. Each individual app will require permission to download files over your mobile network. When you attempt to download a file in an app, it will inform you about the settings requirements and offer a disclaimer with a button to enable mobile network downloads. Additionally, you can install the advanced download manager app for Android and simply open the app to control your setting for any download. Use the Wi-Fi only settings until you really need mobile data to download a specific file then use your data for this file only. Switch back to Wi-Fi only after completing your task to save your remaining data and prevent exceeding your provider limits.
Data Settings
Access the data settings on your Android device by tapping the menu icon and selecting "Connections," then "Data Usage" from the menu. The data usage options make it possible to turn on your data saver setting that blocks apps from running in the background and generally helps your phone minimize data use. You can also use this menu to setup data use alerts so you are aware of data use limits and timing. You can setup an alert and switch from enabled mobile data downloads to Wi-Fi only settings so you don't overrun your data limits.
Google Play Restrictions
The Google Play Store will update apps and manage downloads while using mobile data. You can adjust the Play Store settings to only run updates while using Wi-Fi connections. To adjust the settings, open your Google Play Store. Tap the menu on the left side and select "Settings." Navigate to "User Controls" and then again to "Content Filtering." A list of options will generate for downloads and you can select "Wi-Fi only" to save your mobile data and prevent automatic downloads and updates from running without a Wi-Fi connection.