The Downloads app included with all versions of Android contains a few basic settings, but your phone model and wireless carrier determine many of your download options. For example, your carrier may limit the size of your downloads when you're connected to its data network, so you must join a Wi-Fi network to download large files. While you can't remove this limitation by adjusting your phone's settings, you can get better control over your downloads by installing a different download manager. The Play Store offers many apps that enable you to pause and resume downloads, choose a download location and speed up download times.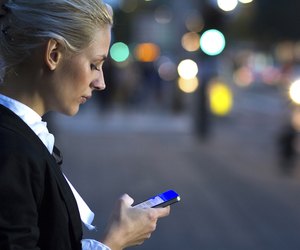 credit: webphotography/iStock/Getty Images
Finer Control With Advanced Download Manager
Step
Install Advanced Download Manager from the Play Store (link in Resources). ADM is a full-featured downloader that supports the Android browser, Dolphin, Chrome, Firefox and other mobile Web browsers. After installing ADM, you can use it to manage downloads from your browser by selecting "ADM" from the Complete Action Using menu displayed when you tap a download link.
Step
Open ADM and tap "Settings." The ADM Settings menu contains many more options than the default download manager, which enables you only to view, share or delete previous downloads. With ADM, you can choose a save location for downloads, specify a number of threads for faster multi-threaded downloading and set a target speed for each download thread.
Step
Tap "Folder for Files" to open a file browser window and choose a download location. By default, ADM stores downloads on your SD card in a folder called "ADM." To choose a folder, tap the folder icon, navigate to a location on your device and tap "OK."
Step
Tap "Number of Parts" to specify the number of simultaneous download threads. The more parts you choose, the faster ADM can download your files, but a high setting can slow down multitasking in other running apps.
Step
Tap "Max Speed of the Part" and drag the slider to the right or left to raise or lower the amount. The default rate is 512Kbps, but if your network provides faster downloads, you can raise the rate up to 988Kbps.
More Options With Downloader and Private Browser
Step
Install Downloader and Private Browser from the Play Store (link in Resources). This app contains several settings that speed up downloads and keep them organized on your device. After installing the app, tap "Open" to launch it and select "Quick Tour" to view some of its features.
Step
Tap "Settings" and navigate to Download Options. Tap "Choose Storage" to select a location for downloads. Downloader and Private Browser gives you the option to store downloads in your internal storage or SD card, but you can't create new folders or categorize your downloads.
Step
Tap "Simultaneous Downloads" to choose the maximum number of files to download simultaneously. The default number is four, but if you plan to download many files over a fast network, you can increase it up to 10 files.
Step
Tap "Back to Browser" to open the private browser and search for files to download. Tap download links while browsing in the built-in browser to add files to the download manager.
Simple Settings With Easy Downloader
Step
Install Easy Downloader from the Play Store (link in Resources). This app contains settings for save location, multi-threading and partial downloads. After starting Easy Downloader for the first time, choose "Wi-Fi Only" or "Any Network" to set your network preferences.
Step
Tap the "Browser" tab to navigate to a website with a file you want to download. Download the file by tapping the download link, then manage your current downloads by tapping the "Downloads" tab. Tap "Pause" or "Start" to stop or resume downloads listed in the Downloads tab.
Step
Select the "Folder" tab to view the download location on your SD card. Easy Downloader automatically categorizes your downloads by file type, and you can add a new category by tapping "New Folder" and naming the folder. Easy Downloader handles all other tasks automatically, so multi-threading, download rates and file sizes don't require any adjustments.