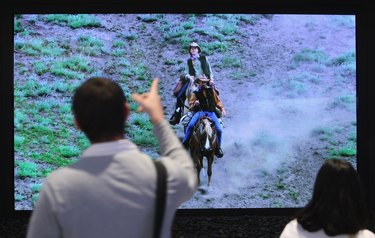 Panasonic VIERA plasma HDTVs allow users to change the picture size to better fit a 4:3 picture on the widescreen television. Each of the four aspect ratios stretches the standard 4:3 image in a different way, and you can choose the one that best fits how you'd like to view the program. In addition, Panasonic included a Zoom Adjust feature that allows you to move the screen around when an aspect ratio that cuts off part of the image is selected.
Step 1
Press the "Format" button on the remote control to switch the aspect ratio sizes among Full, Just, 4:3, H-Fill and Zoom. The Full setting stretches the screen horizontally to fill the black side bars; Just justifies the image to the four corners of the screen; 4:3 is the standard screen with the sidebars; H-Fill is similar to Full, but with the image size increased and the sides of the screen cut off; and Zoom enlarges the entire screen, cutting off a portion of all four sides of the screen.
Step 2
Push the "Menu" button on the remote control.
Step 3
Press the down arrow button to highlight Picture and press the "OK" button, which is located in the middle of the arrow buttons.
Step 4
Select Zoom Adjust from the menu.
Step 5
Press the arrow buttons to change the viewable image on the screen when portions of the image are cut off. For example, if you're using the Zoom aspect ratio, pressing the up arrow cuts off more of the top of the image in order to display more of the bottom of the image.
Step 6
Push "OK" to reset the aspect ratio on your television.