Adjusting the volume on a Comcast cable box is a process than can be done either from the box itself on some models or with the universal remote control that comes with the Comcast box. It's necessary to switch operation of the universal remote control that comes with the Comcast cable box from the TV to the box so the remote is set to the correct component for sound adjustment. A separate adjustment of the TV volume is also necessary unless the cable box is connected to an audio/video receiver with surround sound speakers.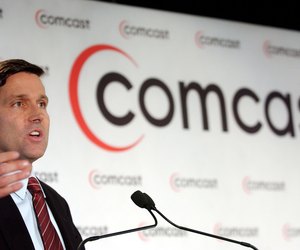 credit: Stephen Chernin/Getty Images News/Getty Images
Step
Use the up and down arrows on the Comcast box to adjust the sound level on boxes equipped with volume controls.
Step
Press the Comcast universal remote control "Cable" button to switch the remote operation from the television (or another component) to the cable box.
Step
Adjust the volume control on the television to a moderate level. If the TV volume is turned down completely, the Comcast box will do nothing.
Step
Increase or decrease the volume on the Comcast box by pressing the up and down arrow keys on the remote control.