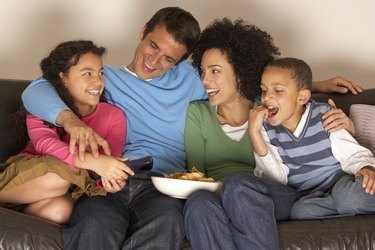 Whether you choose a basic programming tier with SD picture quality or opt for HD reception with a built-in DVR, your DirecTV subscription gives you access to up to 285 channels as of June 2013. When you know in advance that you want to watch a series or event and don't want to miss your program, use your system's autotune capability to set up your DirecTV receiver so it automatically tunes to the show or movie when it starts.
Step 1
Press the "Guide" button on your DirecTV remote control to bring up the program guide so you can locate the program you want to autotune. Press the unlabeled green shortcut button above the "Vol" and "Chan" buttons to move the guide screen later in time in 12-hour increments. Press the red shortcut button to move back in 12-hour increments. Use the "Chan" button to scroll one page at a time vertically through the channels. Press the arrow keys that surround the "Select" button to move forward or back in time or up or down by one channel.
Step 2
Press the "Select" button to bring up the event screen for a specific program. This screen shows you information about the program, including its channel number, duration, plot or event synopsis, and names of actors or participants.
Step 3
Press "Select" a second time to switch to the autotune screen for the selected program. Press "Select" again to add the program to your autotune "To Do" list. Choose "Done" to return to the guide. Press the "Exit" button to clear the Guide screen if you have finished your autotune selections.