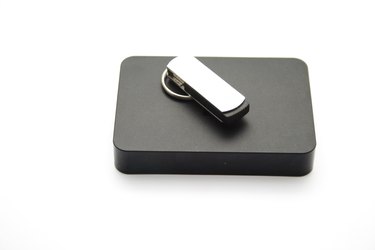 Although Yahoo doesn't have a dedicated email backup tool as of publication, you can back up important messages from your Yahoo Mail account in several ways. Copy emails to a word-processing document, forward them to another address or enable POP access on your account to prevent against the loss of important Yahoo Mail correspondence.
Copying Emails to Another Document
For a small number of emails, the quickest way to back them up is to manually copy and paste them into a word-processing or text-editing application such as Microsoft Word or Notepad. Open the Yahoo email you want to back up, highlight its contents and press "Ctrl-C" on your keyboard. Open the word-processing program, click your cursor inside a blank document and press "Ctrl-V" to paste the contents of the email.
Forwarding Emails to Another Address
If you have another email address, forward emails to it from your Yahoo Mail account to back them up. Open the Yahoo email you want to back up and click the "Forward" icon on the menu. Enter the email address to which you want to forward the message and click "Send."
Enabling POP Access
By enabling POP access in your Yahoo Mail account, you can log in and download your emails from other email programs. Before you can do that, however, you need to enable POP access in your Yahoo account. Log in to your Yahoo Mail account, hover your mouse over the "Settings" menu and select "Settings." Click "Accounts" and then click the "Edit" link next to the Yahoo Account heading. Choose "POP" on the list of options located next to the Access Your Yahoo Mail Elsewhere heading. Select "Don't Download Spam Email" on the POP menu and then click "Save." You can now open any third-party mail client, such as Windows Live Mail, Microsoft Outlook, or the default Mail app in Windows 8, and use its account creation prompt to access your Yahoo Mail (links to instructions for these programs in Resources).
Recovering Lost or Deleted Emails
If you accidentally lose or delete an email that's not backed up, Yahoo can help you recover it within seven days of its deletion. If your restoration request is approved, Yahoo essentially returns your account to the state it was in seven days ago, which means you lose all of the emails you've received in the past week. So back up any new emails you want to keep before requesting an account restoration. Sign in to your Yahoo Mail account and then visit Yahoo's Restore Request Form website to submit your restoration request (link in Resources).