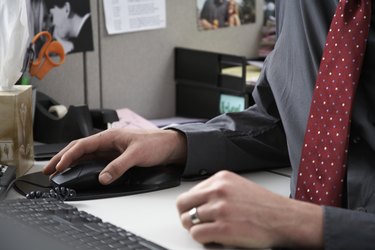 Before LinkedIn added the blocking feature in early 2014, there were few options to block people unless you deleted your account or hid by changing your name. The updated LinkedIn settings change all that. You can block up to 50 people and see a list of who you have blocked. Additionally, changing personal settings allows you to limit what is visible on your profile.
To Block Another LinkedIn User
To block another LinkedIn member, go to his profile and hover over the down arrow located on his member profile to the left of his Connections total. Choose "Block or Report" from the list and then check the box next to Block.
After you click "Continue," a confirmation screen opens. Click "Agree." The blocked person receives no notification of this action. After you block him, the two of you will be unable to see each other's profiles, be connected or view one another's shares. He will remain on your blocked list until you remove him.
Blocking Limitations
All public information on your profile and your comments in public group discussions are still visible, even if you blocked a LinkedIn member. To block a manager of one of your LinkedIn groups, you must leave the group first. If you are the group manager, you must remove the group member before you block her. Your shared connections who forward your content are still visible to the blocked person.
Connections to blocked members are removed for both of you, and so are all endorsements. If you wish to unblock and reconnect later, you must send a new invitation.
This feature is not available from mobile devices, so you have to do your blocking from a computer. Additionally, anonymous users cannot be blocked. Third-party apps, including SlideShare and LinkedIn Pulse, and your own locally saved contact records might also interfere with the blocking functionality.
Access Your Blocked List
Your blocked list is where you unblock anyone you have previously blocked. Access the list by hovering over your profile picture at the top of the LinkedIn home page. Click on "Manage" next to Privacy & Settings and type your password when prompted.
On the Profile tab at the bottom of the screen, click "Manage Who You're Blocking" under the Privacy Controls in the left column. If your list is long, scroll to the person and click "Unblock." You must wait 48 hours to block the same person again.
Change Your Privacy Settings
By default, your LinkedIn profile is visible to everyone else on LinkedIn and to public search engines like Bing and Google. Even if you hide your public profile, it takes some time for it to be removed from public search engines.
To hide your public profile, hover over Profile at the top of your home page and choose "Edit Profile." Beneath your profile picture, click the link to your public URL, which looks like "www.linkedin.com/in/yourname." In the Customize Your Public Profile section, check the box next to "Make my public profile visible to no one." Your LinkedIn profile is now invisible to everyone except other LinkedIn members.
Assess your Privacy Settings often to make sure they apply to your current position and lifestyle. For example, when you first join LinkedIn or when you look for a job, setting activity broadcasts to "Off" under Privacy Settings is a kindness to your fellow members. You are adding an unusual number of Connections, Groups and profile updates which flood connected members' feeds. It is simple to turn activity broadcasts back on later.