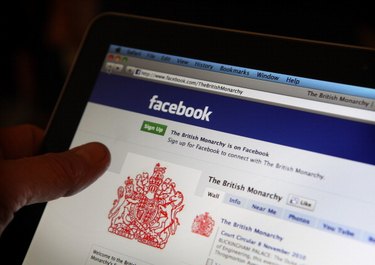 Whether you have friends that you'd rather others didn't know about or you're concerned about your friends' privacy, you can toggle your Facebook settings so that your friends list is private. Due to privacy concerns with the social networking site, Facebook has added more personalized security features to put you in control of what information you share with others. You can keep your friends list under wraps by visiting the "Privacy" section of your profile.
Step 1
Sign in to your Facebook profile with your username and password. When you reach your homepage, click on "My Account," found in the upper right-hand corner. Choose "Privacy Settings" from the drop-down menu.
Step 2
Click "View Settings" under the "Connecting with Facebook" heading. This will direct you to a list of your current settings for different facets of your Facebook profile.
Step 3
Click the drop-down menu beside the "See your friends list" option. Select "Friends Only" if you only want people on your friends list to be able to view your other friends. If you want to hide your friends list completely, choose "Customize."
Step 4
Drop down the menu beside "Make this visible to" and choose your settings. Select "Only Me" if you want to be the only one able to view your friends. You can also choose specific people who can view your friends list.
Step 5
Click the empty field at the bottom of the option box and select certain people that you'd like to hide your friends list from, if you wish. Once you're satisfied with your changes, click "Save Settings." You can preview how your profile will look by clicking "Preview my Profile." When you're happy with the privacy level, click "Back to Privacy." Your changes have now been saved.