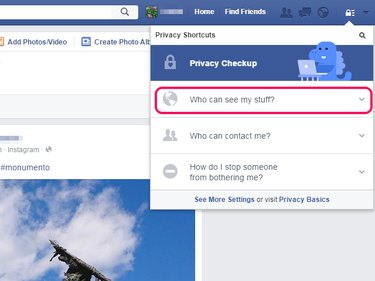 It is impossible to completely lock down your Facebook profile -- your name, gender, profile photo and cover photo, username and account number are always visible to everyone, no matter what. What you can do, however, is ensure any posts you make in the future, as well as any you have made in the past, are visible only to your friends unless you specify otherwise; you can also change the visibility of the friend list on your profile. Further, you can limit the ways in which people can search for your profile, whether the search is on Facebook or the Web.
Changing the Visibility of Posts
Step 1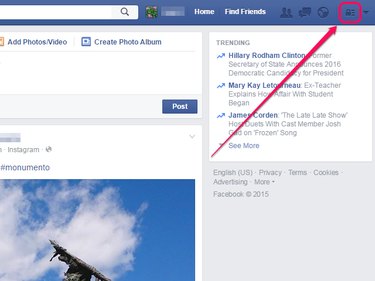 Click the lock icon on the Facebook bar.
Step 2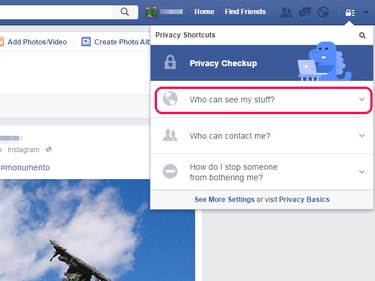 Click Who Can See My Stuff?.
Step 3
Set the Who Can See My Future Posts? option to Friends.
Alternatively, if you want your future posts to be visible only to you unless you deliberately specify otherwise when posting, select More Options and then click Only Me.
Step 4
Step 5
Step 6
Click Limit Old Posts and then click Confirm to change all old posts on your Timeline that are currently visible to everyone or to friends of friends to instead be visible to friends only.
Changing the Visibility of Your Friends List
Step 1
Open your profile, hover over the friends list and click the pencil icon that displays.
Step 2
Step 3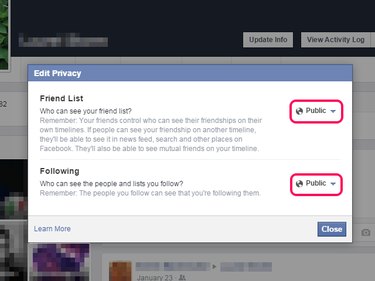 Change the privacy settings for Friend List and Following to either Friends or Only Me, depending on your preference, using the drop-down menus.
Step 4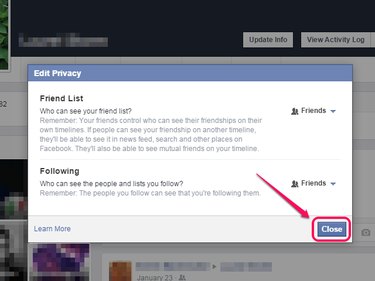 Click Close to save your changes.