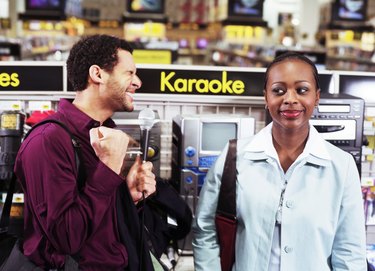 Building a high-quality karaoke system is a matter of selecting the right components and determining your goals. You must decide whether the system is for commercial or recreational use. You must also determine how much money you have to invest to meet the goal of owning a karaoke system. The age and talent level of the users, the venue, and the purpose of the system will guide you in the selection of quality components. You can make or break your system by spending too much on non-essentials and not spending enough on the components that generate quality sound.
Step 1
Start your system with a multi-format disc player. The music industry is in transition from CD and CD with graphics products to MP3 and other computerized programs. A multi-format disc player allows you to handle all formats during the transition. The Vocopro DVG-808K World First Dual-Deck Multi Format Player allows you to play several formats and professionally mix on two channels. Acesonic, CAVS, Pioneer, and RSQ are companies that have quality multi-format players.
Step 2
Select a karaoke mixer-amplifier. Essential features to look for are a key changer, vocal effects function to add echo and reverb, several microphone inputs and at least 300 watts of power. The BMB DAR-800 400W Multi-4-Channel Stereo Karaoke Mixing Amplifier has all these features and a great reputation among karaoke professionals. The BMB mixer-amplifiers have great quality and are extremely durable. The Martin Ranger Pure Sound 55II - 600W Professional Digital Stereo Echo Mixing Karaoke Amplifier is a good alternative at a lower price.
Step 3
Consider your venue and your need for mobility before you invest in speakers. If you plan to move from club to club, a pair of JBL Eons, either 12 or 15 inches, will serve you well. They are lightweight and deliver a great sound. If you are going to just use the system in one venue and you want a high quality sound that does not blow the doors off the hinges, try a pair of Bose speakers. Peavy and Mackie are worthy of consideration but are heavier to move around and second in sound quality to JBL or Bose.
Step 4
Invest in a cordless microphone system. If you plan to use the system in a venue with adults, a Shure SM58 cordless microphone is the best quality available. If your show will include many less mature singers, there is a good set of cordless microphones made by Vocopro UHF-5800 Professional 4-Channel UHF Wireless Microphone System that are good enough for karaoke, but would not be found on a professional stage.
Step 5
Connect the system to a large television monitor screen. Any flat-screen television monitor will allow you and the singers to read the words to the songs as you sing. Have one monitor for the singer and other monitors for the listening audience. Most venues will have televisions to which you can connect with a video cable.