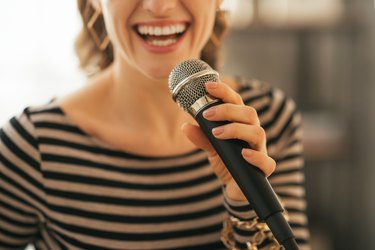 It used to be that if you wanted to create a karaoke system in your home, you had to connect regular XLR-type microphones to a high-output amplifier and purchase an expensive disc player to plays CDG karaoke discs. With modern karaoke systems, though, all the hardware needed to sing along to your favorite tunes is inside the microphone. With karaoke mics such as the ones made by Magic Sing, EnterTech and Magic Tech, you can set up the system with your TV and start singing in a matter of minutes.
Step 1
Turn off the television. Plug the AC adapter cord for the karaoke mic into the mic base stand and an available electrical outlet. Do not turn on the mic or insert into the base unit yet.
Step 2
Connect the yellow, red and white RCA cable that lead from the microphone base to the corresponding input ports on the TV. Most TVs have at least one set of RCA ports you can use to connect DVD players, VCRs or other video components. Note the name of the port on the rear of TV that you use to connect the RCA cables from the microphone base. For instance, the port might have a "Video 1" or "Video In" label.
Step 3
Open the base of the karaoke microphone and insert fresh batteries. Also, insert the song chip for the microphone into the slot labeled "Chip" or "Song Card" if you have not already done so.
Step 4
Power on your TV. Switch the power selector switch on the karaoke microphone to the "ON" position. If the base has a power switch – some do and some don't – turn it on as well. Use the TV remote control to set its input or source to the video port to which you connected the karaoke microphone base. In most cases, if you simply press the "Input" or "Source" button a few times, the main menu screen for the karaoke system should appear on the TV screen.
Step 5
Use the arrow buttons on the microphone to browse the song menu and select a song. Press the "OK" or "Enter" button on the microphone touchpad. Adjust the volume using the TV remote control and sing the song.