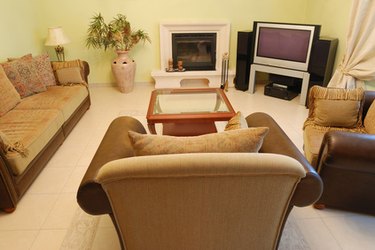 Take advantage of the surround-sound capabilities of your favorite movies and TV shows by purchasing a Kenwood surround-sound system. Most of Kenwood's systems can be purchased for less than $1,000, which makes the setup affordable for many people. The company's systems typically feature five surround-sound speakers, a powered subwoofer, a home-theater receiver and a DVD or Blu-ray player.
Place the Speakers
Step 1
Place the left and right front speakers next to your television set. Have at least 10 feet between them.
Step 2
Place the center channel speaker directly above or below the television.
Step 3
Place the rear channel surround-sound speakers behind and slightly above your main seating area at a 45-degree angle.
Step 4
The subwoofer and Kenwood receiver can be placed anywhere that is convenient within the room. It is recommended to place them near the television set.
Connect the Components
Step 1
Set your DVD or Blu-ray player next to the Kenwood receiver. Connect the player's audio/video cord into the corresponding input jacks on the back of the receiver.
Step 2
Connect the video output jack on the receiver with a cable leading to the video input jack on the back of the television.
Step 3
Connect the speakers systematically to the Kenwood receiver. Connect the front-channel speaker wire to the receiver, then to the receiver itself.
Step 4
Repeat this with all the speakers and subwoofer until everything is connected to the receiver.
Step 5
Plug the Kenwood receiver into a power strip. Turn on the system.
Set Up the System
Step 1
Insert a disc into the player's tray. Adjust the volume to the desired level with your remote control.
Step 2
Toggle to the audio-settings menu to set your preferred levels for the individual surround-sound speakers.
Step 3
Set the audio-delay effects. Audio-delay creates the sensation of action moving throughout the room.