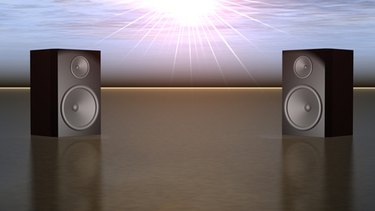 An RCA home theater system is typically made up of five satellite speakers, a subwoofer and an audio receiver with built-in DVD player or Blu-ray player. This home theater system allows you to be fully immersed in the sound that accompanies the video programming, and it can even save you money over purchasing a separate DVD/Blu-ray player. The connection process takes no more than a few minutes, and soon you can begin experiencing full surround sound.
Step 1
Position the receiver/DVD player close to the television. You are connecting the two devices together, and usually the connection cable isn't terribly long.
Step 2
Plug the RCA video cable into the "Video Out" port on the RCA home theater system receiver. If the receiver has a built-in Blu-ray player, connect an HDMI cable into the HDMI port instead. Insert the opposite end of the cable into the appropriate port on the television (RCA cable into the "Video In" port or HDMI cable into the "HDMI" port).
Step 3
Position the speakers around the area where you are most likely going to be sitting. The speakers are marked where they need to go (such as "rear left" or "front right"). Place the rear speakers behind your seat, or next to it if it's against the wall. Place the front speakers at the front, along the TV. There is a long, middle speaker; position this either directly below or above the TV. Set the subwoofer speaker on the ground next to the TV.
Step 4
Run the wires coming out of the speakers into the appropriate connection ports on the back of the RCA home theater receiver. The ports are marked to match the speakers ("front left," "back right"). Plug the wires running out of the speakers into the ports that are marked the same as the speakers.
Step 5
Turn on the power for the connected television and the RCA home theater receiver. Press the "Input" button on the TV, and select either "Video" or "HDMI," depending on where the receiver is connected. You are now set to begin watching video programming with a surround sound system.