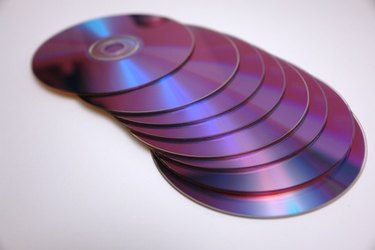 A CDG is a simple graphics file that's most commonly used along with audio files. The best example of a CDG file is a karaoke disk. If you want to make your own karaoke disk, you can burn CDG files onto a blank CD. Doing so is easy and won't take you long at all.
Step 1
Insert a blank CD into the CD drive of your computer.
Step 2
Double-click on the folder that contains your CDG files to open that folder.
Step 3
Right-click on any CDG file(s) you want to burn to the blank CD. Doing so opens a small box that contains several options. Choose "Send To," which opens another box. From that box, select your CD drive, the drive containing the blank CD.
Step 4
Select "Start" from the toolbar at the bottom of your computer.
Step 5
Open "My Computer" and double-click on the blank CD icon. You should see the letters "CD-R" written underneath the icon, indicating the blank CD. Once you've double-clicked on the icon, you should see the CDG file(s) you previously selected underneath a "Files Ready to Be Written to the CD" heading.
Step 6
Right-click on a blank spot next to one of the files to once again bring up a box of options. Choose "Write These Files to CD" from the available options. Doing so will open the CD Writing Wizard.
Step 7
Name your CD by writing in the box underneath the "CD Name" heading. If you choose not to name the CD, it will be named the date on which the files were burned to the CD.
Step 8
Click "Next" in the bottom of the CD Writing Wizard and the CDG file(s) will begin burning to the CD.
Step 9
Wait for the CD to eject itself once the process has finished. If this doesn't occur, wait until you have confirmation that all files have been burned to the CD before you eject it.