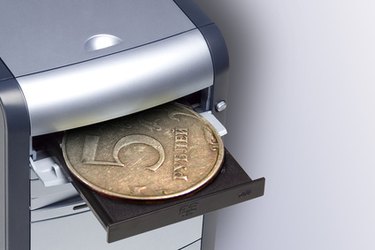 Burning a CD with song titles is useful if you own a CD player that displays CD text. You won't need to print out a track listing, since you can read the titles on your stereo's digital screen. Creating song titles on your CD burning software program helps you to manage and file your digital music easier so that when it comes to burning other CDs it is a whole lot easier.
Step 1
Open your disc burning software, such as iTunes or Windows Media Player, by clicking on its icon.
Step 2
Insert an audio CD that contains music you wish to burn to a CD into your computer's disc drive. Click on "Import" when the CD is recognized. Or connect to the Internet and purchase and download MP3s through your music software program.
Step 3
Go to your program's title tab in the top task bar and select "Preferences" or "Options" from the drop-down list. Go to the "General" screen and make sure the check-box is checked next to "Automatically retrieve CD track names from the Internet" or similar wording. Go to "Advanced" and "Get CD track names" to do this process manually.
Step 4
Click on each individual track and type the name in the box that's provided to enter the track titles manually if your program couldn't find some of the titles over the Internet, or if your program doesn't have this option.
Step 5
Go to "File" and select New Playlist from the drop-down list. Type in a name for your playlist and click and drag any songs you want to be on your CD into the playlist.
Step 6
Insert a blank CD-R into the disc drive on your computer. Click on "Burn" or "Burn Disc."