Capturing video directly from a computer screen is easy with Microsoft's free Windows Media Encoder application. The application feature's a wizard which practically walks you through the entire screen capturing process. Prior to using the software to capture video from the screen however, you need to prepare the screen for capturing. Some of the computer's displaying property settings need to be altered in order to produce the best quality video.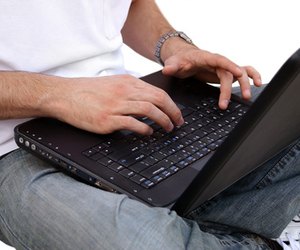 Prepare the Computer Screen
Step
Right-click any empty space on the desktop. Select "Properties" from the shortcut menu to open the Display Properties box. Go to the "Settings" tab.
Step
Move the "Screen resolution" slider to set the value to "800 x 600 pixels." Click the "Color quality" drop-down menu and select "Medium (16 bit)." Click "Apply."
Step
Go to the "Screen Saver" tab. Click the "Screen saver" drop-down menu and select "None." Click "Apply." Click "OK" to close the Display Properties box.
Set Up Screen Capture Session
Step
Launch Windows Media Encoder 9 by clicking "Start," point to "All Programs" or "Programs," go to "Windows Media," and select "Windows Media Encoder."
Step
Select "New Session" in the Encoder toolbar if the "New Session" dialog box does not open automatically. Go to the "Wizard" tab. Select "Capture Screen." Click "OK" to launch the New Session Wizard.
Step
Follow the wizard's prompts to set up your screen capture session to meet your specifications. The first prompt is the "Screen Capture Session" prompt where you can choose to capture video from a "Specific window" open on the screen, a specified "Region of the screen" or from the "Entire screen." The next prompt is the "Output File" prompt. Click the "Browse" button, then navigate to the directory path where you'd like your soon to be recorded file to be saved, name the file, and click "Open." Click "Next."
Step
Choose the encoding setting you prefer at the "Settings Selection" prompt. You may choose "Low," "Medium," or "High." This setting determines the quality of the recorded video. The higher the setting the higher the quality of the video; the lower the setting the smaller the file size. Click "Next" to go to the "Display Information" prompt where you may enter the title of the video, author's name and other information.
Step
Check the box next to "Begin capturing screens when I click Finish" if you would like your screen capture recording to begin automatically as soon as you close the wizard. Leave the box empty if you would like to manually start the recording. Click "Finished" to close the wizard.
Capturing Screen
Step
Select "Start Encoding" in the Encoder toolbar to start capturing video from the screen. Windows Media Encoder is automatically minimized to the taskbar during the screen capture.
Step
Click the "Windows Media Encoder" button in the taskbar to pause the recording whenever you want.
Step
Click "Stop" in the Encoder toolbar to end the recording.