A MacBook computer equipped with Mac OS X comes with Safari, Apple's web browser, also available as a free download from Apple's website. Features of Safari include customizable privacy and security controls, Java and JavaScript support, and drag-and-drop bookmark organization. Safari users enjoy its Cover Flow interface, which allows the user to select a website from a collage of large graphic previews. As with other browsers, a user can customize many of Safari's options, including which homepage appears when the user opens the browser.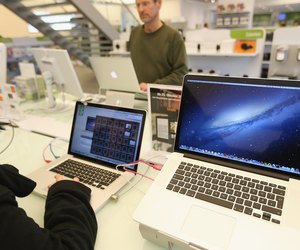 credit: Sean Gallup/Getty Images News/Getty Images
Step
Open Safari while connected to the Internet. If your Mac OS X is set to show application icons in a dock, click once on the icon that resembles a blue compass. If Safari is not in your dock, click on "Finder," then "Applications," then double-click on "Safari."
Step
Click on "Safari" in the top toolbar, which will bring up a drop-down menu. Select "Preferences" from the menu. The default tab "General" should be highlighted, but if not, click on "General."
Step
Place your cursor in the box immediately to the right of "Home Page:." Type in the complete web address of the page you want to appear as your home page when you open Safari.
Step
Close the Preferences menu by clicking the "x" in the corner. Safari automatically saves your selection.