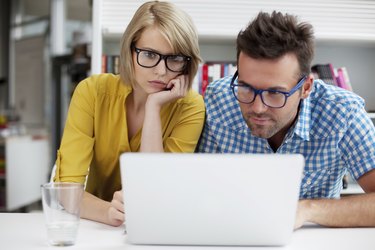 Surfing the web has never been easier. Apple's Safari is sleek in its design and robust in its features, making it one of the most sought after web browsers available today. Arguably the most popular feature of the Safari browser is its knack for personality. You can customize your Safari search bar to look cool, work fast and make your web browsing experience something to look forward to again and again.
Step 1
Open Safari and navigate to "View," and then select "Customize Toolbar."
Step 2
Drag the desired buttons and icons to the toolbar. You can add buttons to your toolbar that do not appear by default. You can add an icon button for "Back/Forward," "Home," "AutoFill," "Text Size," "Open in Dashboard," "Add Bookmark," "Print" and "Report Bug." Click the desired button and drag it onto the toolbar. You can start from scratch by dragging the default set of buttons onto the toolbar.
Step 3
Click "Done" in the bottom-right corner of the window to save your changes.
Step 4
Add bookmarks to your toolbar by clicking the "+" icon next to the search window, or by selecting "Bookmarks," then "Add Bookmark."
Step 5
In the Bookmarks window that pops up, name your bookmark and select "Bookmarks Bar" from the drop-down menu. This will add the bookmark to the toolbar just below the address bar, rather than the bookmarks list, making it accessible in only one click.
Step 6
Change the search engine that powers your search bar. If you are using Safari 4 or later, click on the arrow to the left of the search bar to reveal a drop-down list of search engines. Click on any site from the list to set it as the browser's search engine. Now the search bar will send whatever text you type into the search bar to the chosen search engine site and return your results in the browser.