Sometimes you can't print a document because your printer is offline. This frustrating problem can be resolved easily on a Hewlett-Packard (HP) printer. All that is needed to switch an HP printer from offline to online is a computer mouse or computer touch pad. To ensure another printing problem doesn't exist, though, check the printer for paper jams, proper installation of ink cartridges and low ink.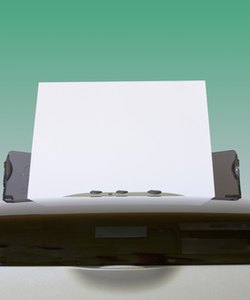 Step
Turn on the computer to which the HP printer is connected. The printer does not have to be turned on in order to switch it from offline to online.
Step
Click once on the Start menu.
Step
Click "Devices and Printers."
Step
Click the icon for the HP printer you wish to use. Where the status shows "Offline," click the word "Offline" and then click the "Printer" option on the pop-up window that results. Uncheck the "Use Printer Offline" option.