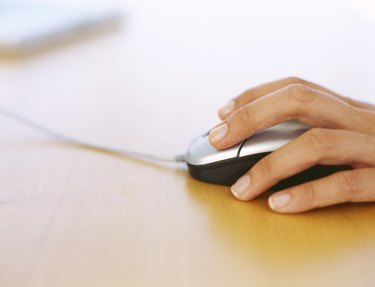 Documents created using Microsoft Word are identified by an icon when they are saved to a hard disk drive.. If you open a folder in Windows Explorer, you can usually identify the file type of a file saved in the folder at a glance by the icon used to identify the file. From Windows Explorer you can change the icon associated with a particular file type. This can be useful when the file icons of two file types are considered to be similar, for example files with a .doc extension and files with a .doch extension. Documents created with Word 2003 or before have a .doc extension by default. Those created with Word 2007 and later have .docx or .doch extensions. These instructions are only valid for Word documents created using Word 2003 or earlier, but see "Tips" below.
Step 1
Click "Start," then click "My Computer." This will open a Windows Explorer window.
Step 2
Click "Tools," then select "Folder Options" from the drop-down list that appears. This opens a Folder Options window.
Step 3
Click the "File Types" tab in the Folder Options window. This will display a list of registered file types. In this list you can see the icon currently used to represent files of particular file extensions. This list is populated when you install the operating system and also by applications such as Microsoft Word when you install them.
Step 4
Scroll down the list of registered file types until you can see the .doc file type. Select the .doc entry in the list. In the "Details for .doc Extension" section near the bottom of the tab, click the "Advanced" button. This opens an "Edit File Type" window.
Step 5
Note that "Microsoft Word Document" appears in the text strap at the top of the Edit File Type window. Click the "Change Icon" button to the right of this text strap. This opens a Change Icon window.
Step 6
Select a list of available icons, from those displayed in the box, or click the "Browse" button to locate third-party icons if you have any saved on your computer. Select the icon you want to use to represent files with the .doc extension. Click "OK." The new icon you have chosen will be displayed to indicate .doc files saved on your computer.
Things You'll Need
Computer running Windows

Microsoft Word
Tip
Documents created in Word 2007 are created in XML code. This makes them portable between PCs and Macs, for example, but there are compatibility issues when trying to use them with previous versions of Word. The code used to access pre-Word 2007 documents will not work with Word 2007 documents. You can download graphics packs for Office 2007 and use the installation instructions and icon-change interfaces that they supply to change icons in Word 2007 documents in this instance.
You can download third-party icons and install them on your computer if the default icons provided by the application manufacturer do not suit your purpose. Some have to be paid for, but there are freeware icons available. Always scan freeware with your virus-checking software before installing it on your computer.