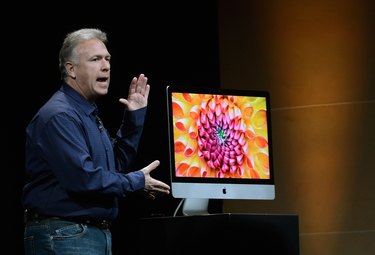 Whether you're editing a video for another device or just want to see what your Mac's screen is capable of, it's helpful to know how to change your display resolution. In OS X, the resolution of your display screen is configured using the Displays dialog in the computer's System Preferences.
Change Display Resolution
Click the "Apple" icon located in the top left corner of your screen and select "System Preferences" to load the System Preferences panel. Click "Displays" to load the Displays dialog and then click the "Display" tab, if it is not already selected. Click the "Scaled" radio button on the right of the Displays dialog and select the resolution you want to use. Your computer will have automatically loaded a list of compatible resolutions. Wait approximately 15 seconds for the screen to recalibrate itself to the new resolution.
Additional Information and Tips
If your screen does not switch to the new resolution within 15 seconds, press the "Esc" key on your keyboard to revert to your prior resolution.
If the computer does not respond to the "Esc" key, press "Control-Command-Eject" to restart the computer and try again.
Which display resolutions are available depends on the size and capabilities of your screen. By default, most Macs will automatically be set to use the highest possible resolution they support.
The same procedure applies to both the built-in screen on your Mac and any external screens you connect to it. However, if you're trying to change the resolution on an external screen, you must press the "Option" key when you click the "Scaled" radio button in order to show a list of available resolutions for your external display.
Version Disclaimer
Information in this article applies to computers running the Mac OS X Mavericks operating system. Procedures may vary with other versions or products.