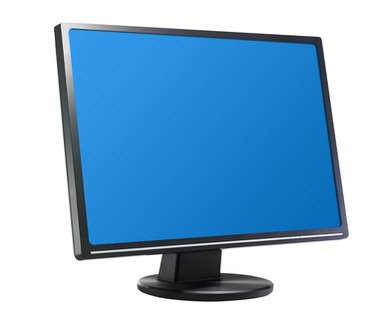 Whether you are having problems with your MacBook's internal display or you just want to increase your screen real estate, connecting your laptop to an Acer monitor will solve your problem. To connect the two you will need the correct cable and available ports on both devices. Using software that is already installed on your MacBook, you can configure the options to enhance the use of the monitor.
Step 1
Look at the ports on the left side of the MacBook and the back of the Acer monitor. A MacBook can be connected to an external monitor that has either a DVI or VGA port. The ports on the monitor will either be labeled or have a corresponding icon next to them. If you are unsure what an icon means, look in the "Features" section of your user manual. Make sure your Acer monitor model has the correct port.
Step 2
Plug one end of the connection cable into the monitor and the other end into the MacBook. If you are using a DVI cable connection, plug each end directly into each device. If you are using a VGA cable connection, you have to use the mini-DVI-to-VGA adapter that comes with your MacBook. Plug one end of the VGA cable into the VGA end of the adapter and insert the adapter DVI end into the laptop. Plug the other end of the VGA cable into the monitor.
Step 3
Turn on both devices. After your MacBook powers up, it will automatically detect and display the desktop on both screens. Your Acer monitor is now ready for configuration.
Step 4
Click on the "Apple" icon on the top left corner of the desktop. From the drop-down list, select "System Preferences" followed by "Display." A new "Display" window will appear that has the available options that can be changed. For example, you can change the screen resolution of the Acer monitor, change the arrangement of the displays and whether you want to mirror the MacBook's display, or extend the desktop to the Acer monitor.