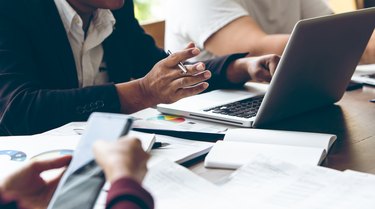 MHTML or MHT files are web page archive files that contain images, audio, video, text and other content from a web page all bundled up into one file. They can be generated and opened by web browsers and web browser extensions. You can use a specialized program or website to convert MHT to PDF or use the print function in most modern web browsers and operating systems to generate a PDF file after opening an MHT file.
Understanding the MHT Format
An MHTML or MHT format file is used to store an archival copy of a website. Typically, when you visit a website, the main site body is defined in a hypertext markup language, or HTML, file. This file can include references to other online files, including images, video, audio, stylesheets that define the layout and style of the page and JavaScript files that provide additional programming functionality to the page's designers. These files are automatically downloaded by your browser when you visit the page.
The downside of having all of the files related to a website being separate is that it can make it hard to easily download the page for later reference. If you simply download the raw HTML file with references to other files, you won't be able to access those files at a later time if the website goes down or you don't have your device connected to the internet.
To address this program, web browsers often use the MHTML file to save archival copies of the websites you want to store for later, essentially building one file with all the content from separate files that usually goes into the page.
Opening an MHT File
If you already have an MHT file, which will usually have the extension .mht or .mhtml, you can open it with most modern web browsers on your computer, including Microsoft Internet Explorer, Mozilla Firefox or Google Chrome. Some browsers may need a specialized extension to open these files.
Once you open the file using your browser's "File" menu, you should see a copy of the web page in question as it was archived from the internet.
Microsoft Word can also open an MHT file.
MHTML to PDF Conversion Options
PDF files are useful for viewing content in a way that looks the same across devices and operating systems.
Once you open your MHT file in a web browser, you can convert it to a PDF using your browser's print menu. To do so, click "File" and then "Print," and then choose the "Print to PDF" option available in your browser and operating system. Click the "Print" button and choose where you want to save the PDF file.
You can also use some online conversion tools to upload an MHT file and receive a PDF file in return. Make sure to use a site you trust, especially if there is any sensitive information in the MHT file, such as account numbers or contact information.
Caveats and Security Concerns
It is possible for MHT files to contain malware that could infect or damage files on your device. You should generally only open MHT files from sources you trust and verify that any you receive as email attachments or through other messaging platforms are actually from the source they claim to be.
Also keep in mind that some content in MHT files may not render perfectly into a PDF. In particular, embedded audio and video may appear as static images when you convert the files into PDFs, similar to printing a file with an embedded video.