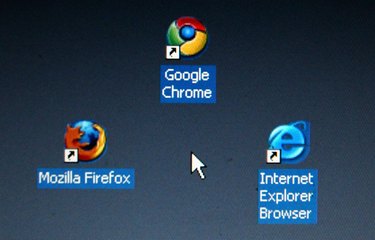 When you click to open a music or video file in your Mozilla Firefox web browser, it will open the file using the default media player, which is automatically set when you first install the browser. If you install a new media player on your computer and want all of your media files to open with this new player, you can change your settings in Firefox.
Step 1
Make sure the new media player is installed on your computer. Popular media players include Real Player, QuickTime, Windows Media Player and WinAmp.
Step 2
Open Mozilla Firefox and click "Tools" and then "Options" on the main menu.
Step 3
Click the "Applications" tab. Scroll down on the list of file types until you find all of your media file types, including playlists, audio and videos.
Step 4
Select the "Action" column box next to each of your media file types. You will see a drop-down box.
Step 5
Change your default media player for each file type by clicking "Use other." Choose "Always Ask" from the list if you want the browser to ask you every time which media player you want to use, or choose "Save File" if you want to automatically save the file to your computer instead of opening it.
Step 6
Press "OK" to close the dialog box. Close and restart your browser to activate the new settings. Click on a song or video file in your browser to make sure it recognizes your choice from Step 4 and opens the file in your new default media player.