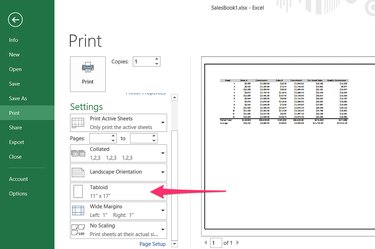 For large spreadsheets, Microsoft Excel 2013 supports tabloid-sized pages, so you can print on paper measuring 11 by 17 inches in either landscape or portrait mode. Whenever you change the page size in Excel, examine your margin settings and take a look at the page breaks and the print job preview. This will ensure your print job comes out the way you want it the first time, without wasting paper or ink.
Step 1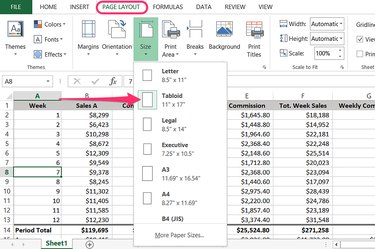 Click the "Page Layout" tab after opening any Excel worksheet and then click the "Size" icon. Select "Tabloid" for an 11-by-17 inch layout.
Step 2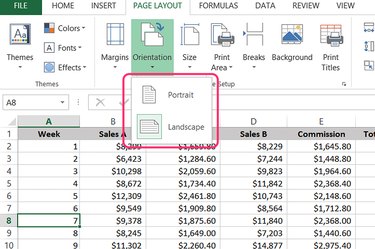 Click the "Orientation" icon under the Page Layout tab and select either "Portrait" or "Landscape."
Step 3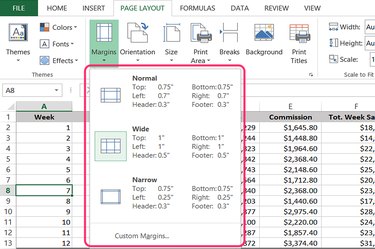 Click the "Margins" icon to specify margin sizes. Excel 2013 has three margin styles -- Normal, Wide and Narrow -- with the margins, headers and footer dimensions listed. You can also specify your own margins by clicking "Custom Margins."
Step 4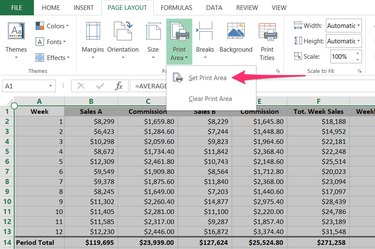 Drag the cursor over the cells you want printed if you want to print only a portion of the worksheet. Select "Print Area" under the Page Layout tab, then click "Set Print Area." The cells that you don't highlight won't be printed. If you later want to change the selected cells, or print the entire worksheet, select "Clear Print Area."
Step 5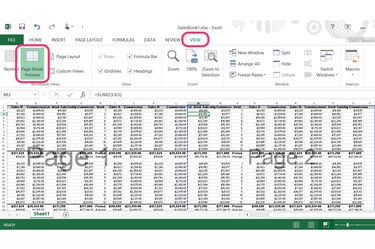 Click the "View" tab and select "Page Break Preview" to see how your print job will look. If you are printing a large worksheet, make sure the columns appear on each page as you intended. For example, if the columns or margins are too wide, the column you wanted on Page 1 may appear at the beginning of Page 2. If necessary, you can modify the column and row widths using this layout view.
Step 6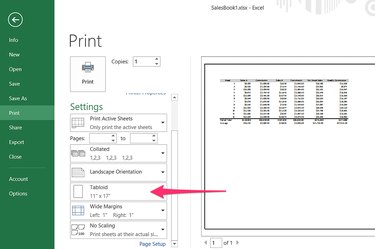 Click the "File" tab when you are ready to print the worksheet. Select "Print" from the menu and select your printer. A preview of the print job appears, as well as your print settings. If the "Tabloid" page size isn't selected here, click the current page size and select "Tabloid" from the drop-down menu. Select the number of pages you want printed, whether you want them collated or not, and any other settings you want to specify. Turn on your printer and click the "Print" button.