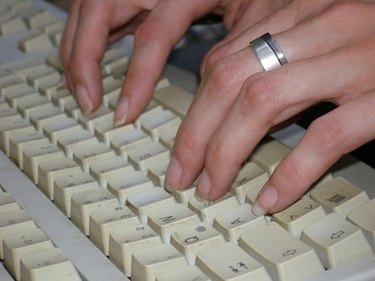 When Microsoft Office programs are installed on your computer, the software checks the Windows input settings to determine what language to use for the program. If you have a French version of Microsoft Visio installed, you can change the language settings back to English. Microsoft Office also has a tools program that will let you customize the language settings. You can also choose multiple languages to be displayed should you want to type in English but prefer a French help menu.
Default Input Language
Step 1
Click "Start" then type "Change keyboards or other input methods" in the search box and press "Enter."
Step 2
Click on the "Change Keyboards" button and check under the "General" tab to see what the default input language is being used. If it is in English, you can exit this screen. If set to another language, continue to step 3.
Step 3
Click on the "Add" button and scroll down until you find "English" then click "OK" to add the language. You can choose between multiple English styles such as US, UK or South Africa.
Step 4
Go back to the "Text Service and Input Languages" screen and select English from the drop down list under "Default Input Language." Click "Apply" to save then exit this screen.
Office Language Settings
Step 1
Click "Start," then select "All Programs." Select the "Microsoft Office" folder and choose "Microsoft Office Tools," then "Microsoft Office 2007 Language Settings."
Step 2
Select the "Editing Languages" tab then select "English" from the "Primary editing language" list. Click "OK" to save. If you don't see English listed in this box, continue to step 3.
Step 3
Click on the "Available editing languages" list and highlight "English." Add it over to the "Enabled editing languages" list, then repeat step 2.