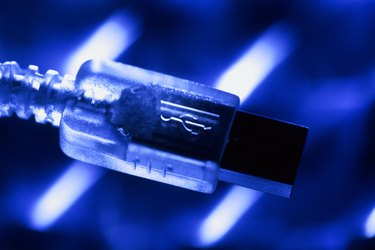 MP3 players have become quite popular for people across all age groups. If you own one, you should be aware not only of its features but of its requirements as well, especially regarding battery power. Once the battery is drained, you have the option of using a USB cable to hook up to your computer or straight to a power outlet with the use of a power adapter. Connecting to a computer is very common since you have access to your music and files.
Step 1
Connect the USB adapter to the MP3 player. A USB cable typically has two different size adapters on each end. The smaller adapter is going to connect to the MP3 player and the larger end connects to a power source. It is important to have the MP3 player turned off prior to charging.
Step 2
Find an available USB port in the computer and plug in the MP3. If you are using a power adapter to plug into an outlet instead of a computer, plug the other end of the USB cable into the power adapter.
Step 3
Wait for the light to appear on the MP3 player. It is usually red or orange, which signifies that the device is currently charging.
Step 4
Leave the device plugged to the USB port until recharging is complete.
Step 5
Click the icon for USB, which is usually on the bottom right corner of the screen, once the light turns green.
Step 6
Click the "safely remove the hardware from computer" option.
Step 7
Unplug the MP3 device gently.