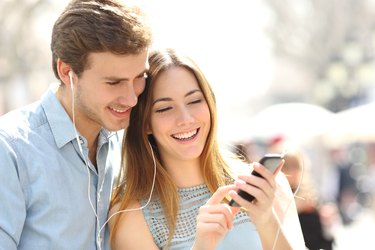 MP3 players make it easy to carry your music library with you wherever you go, but figuring out how to physically transfer that music onto your new portable device can be a confusing task if you're unfamiliar with the world of digital music. However, there are a few easy steps that will work on almost every MP3 player, whether it's an expensive device or a simple one you picked up at a discount retailer.
Step 1
Connect the MP3 player to a computer with a USB cable. Most players have a specially fitted cable included as an accessory at purchase.
Step 2
Power on the MP3 player. If this is the first time you've connected the MP3 player to your computer, you may be prompted to install drivers. If so, complete this task before moving on.
Step 3
Windows should automatically detect the MP3 player. Click "View Files" or "Open" from the menu that appears. This will bring you to the root directory of the MP3 player.
Step 4
Music management programs such as iTunes or Windows Media Player put music files in specific places when you download songs. In many cases with a PC, it would be in the Music folder. If you are not sure where your music files are stored, click the Windows "Start" menu and type into the Search field the name of a song that you have downloaded. When the song appears in the search results, right-click the song and choose "Open File Location."
Step 5
Copy the music files from the computer to the MP3 by dragging them from their location on the computer to the open folder on the MP3.
Step 6
If you want to organize your music into folders, you can create folders on the MP3 player by right-clicking an open space in the root directory and choosing "New." Select "Folder" and then rename the folder to whatever you would like. Copy music to that folder by dragging and dropping the files into the folder. You can have as many folders as you would like or as many as your device will hold in memory.