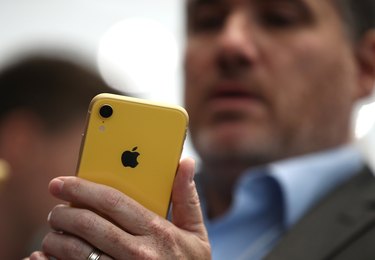 While the Android smartphone operating system is designed to be modified and allows users to use their devices like they would a Windows or Linux PC, Apple maintains tight control of the iOS that powers iPads and iPhones. IOS firmly restricts access to the device's file system and the use of any app not downloaded from the App Store, which Apple curates.
Jailbreaking an iPhone through the use of third-party software allows you to bypass Apple's intended restrictions, and while recent iOS versions have made the process increasingly difficult, it is still possible, which makes it just as possible for a secondhand buyer to end up with a jailbroken iOS device. While a jailbroken iPhone can still be used as Apple intended, it opens users to risks from malware, spyware and potential hardware issues. If you suspect that you purchased an iPhone modified in such a way or had your iPhone modified without your knowledge, you can check if an iPhone is jailbroken and restore it to factory settings.
Risks of Living Jailbroken
There are a variety of reasons why a user may want to jailbreak an iPhone. Removing the restrictions from an iOS device provides greater freedom in how the device can be used, in terms of both the breadth of apps available for download and the ability to customize the device as the user sees fit. Jailbroken iPhones can delete stock apps like Safari, Stocks and Newsstand and change the layout of the home screen and app drawer.
The problem is that in opening access to these systems, users also open themselves to spyware and tracking apps. Users who jailbreak their own iPhones usually know and understand these risks, but users who end up with jailbroken devices unwittingly can easily stumble into unfortunate situations as a result.
iPhone Jailbreak Signs
If you suspect that your iPhone has been jailbroken, you can determine the status of the device within 10 minutes. The easiest way to diagnose an iPhone is with a jailbreak checker app like "System and Security Info," downloadable from the App Store. When the app is installed and opened, it scans your device. If it reads "Yes" in the "Jailbroken" column, your device is jailbroken. If you don't want to pay for a diagnosis app, you can identify your iPhone's status on your own. Look through your apps. If any of the stock Apple apps are missing or if an app called "Cydia" is present, your device is jailbroken.
Cydia was an alternative app store, and the Cydia app was installed automatically when an iOS device was jailbroken. However, when iPhones are jailbroken to install tracking apps without the owner's knowledge, Cydia and the trackers themselves are often hidden. Use the app search function to find a hidden Cydia on an iPhone if you suspect your device may have been jailbroken in secret. Once you've identified whether your device has been jailbroken, you can decide to restore it to factory settings or not.
Restoring an iPhone to Factory iOS
There are a handful of methods available to restore your iPhone to its stock iOS version and remove the jailbreak modifications. Before performing any of these, you should back up your phone's contents to iCloud or a similar service because removing the jailbreak wipes the iPhone entirely.
With newer versions of iOS, open the "Settings" app and go to "General" and "Reset." Select "Erase All Content and Settings" and confirm the decision.
With most iPhones, you can use the "Find my iPhone" app to restore it to factory settings. First, turn off the "Find my iPhone" app in the device's settings and connect your iPhone to a computer with iTunes installed. Open iTunes if it doesn't open automatically and go to the iPhone's summary page. Click the "Restore iPhone" button and follow the prompts to wipe your iPhone and undo the jailbreak.
If for some reason these methods fail, you can boot into Recovery Mode. Turn off the iPhone and connect it to the computer while holding the Volume Up, Volume Down, and Side buttons on iPhone X and 8, the Sleep/Wake and Volume Down buttons on iPhone 7, or the Sleep/Wake and Home buttons on iPhone 6 and older until the iTunes icon appears on the device. Follow the instructions on the computer's screen to restore and update your iPhone, removing the jailbreak.
In the worst-case scenario when nothing restores the phone to its factory settings, take your device to an Apple Store and ask a technician there to restore it to factory settings.