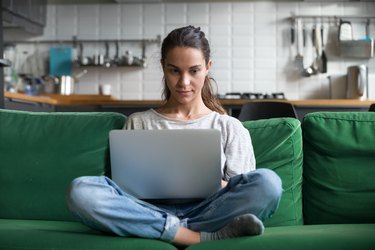 When you want to check the latest messages in your Yahoo Mail inbox, you have multiple options to do so on your computer and mobile device. You can visit the Yahoo.com mail page on your phone or computer browser or download the Yahoo Mail mobile app for Android or iPhone. You can also add your Yahoo account to your mobile device's built-in mail app to conveniently see your messages alongside those of your other email accounts. If you run into issues accessing your inbox, Yahoo has some troubleshooting steps you can try.
Checking Mail on Yahoo.com
To check your inbox on your computer or phone browser, visit mail.yahoo.com. As an alternative, select the envelope icon on the desktop versions of the Yahoo homepage and Yahoo Search page to go to the mail login page.
Enter your Yahoo username, phone number or email address associated with your account. For convenience, select the option to keep you signed in during this step. Proceed to log in with your Yahoo Mail password.
After you sign in, you see your inbox, where you can select any message to view the contents. You also have options to respond, report, move, delete, archive or forward the message.
Using Yahoo Mail's Mobile Apps
On-the-go Yahoo Mail users can download Yahoo Mail apps on the app stores for Android or iOS devices. Along with letting you check and respond to messages in your inbox, these apps give you the ability to cancel email subscriptions, set a custom view for your inbox, and make shopping lists.
After you install the Yahoo Mail app, open it and tap the Sign in With Yahoo button. This action brings up the Yahoo Mail login page, where you enter the login details as you would on the website. The Yahoo Mail app's inbox, which lists your messages grouped by day, opens.
Tap a message to read it. At the bottom of the screen are several actions you can use for the email.
If you want to customize how your Yahoo Mail inbox looks, tap your profile image on the main screen and select Settings to access those options.
Using Default Mobile Mail Apps
If you feel more comfortable using your mobile device's built-in mail app, you can add your Yahoo Mail account to it as an alternative to using Yahoo's app. This way, you can see any notifications you set for messages and conveniently access all your inboxes in one place.
To add Yahoo Mail to your iOS device, locate the Passwords & Accounts option in the Settings app. Select Add Account to display Yahoo as one of the preset options. Tap it and proceed by entering your login details. Your device asks you to set and save your sync preferences. You can then open the Mail app and access your Yahoo inbox from the Mailboxes page or see your Yahoo messages alongside others in your general inbox.
If you use an Android device, open the Email app and choose Settings. Tap Add Account to go to a list of mail providers that contains Yahoo as an option. After you type your login details and successfully sign in, the app asks you about everything you want to sync. After going through the wizard, you see your Yahoo messages in the main inbox.
Resolving Yahoo Sign-In Issues
Many issues accessing your Yahoo Mail account have to do with wrong login details. The website or app notifies you if your credentials are the problem and provides options to retrieve a forgotten username or password during the login steps. Yahoo sends a code to your phone or recovery email address; use it to reset your account.
When you repeatedly try to guess your login details, Yahoo locks your account. If this happens, you need to go through a recovery process and verify your identity before you can get back into your inbox. This same problem can occur if Yahoo notices a suspicious login or thinks that your credentials were stolen.