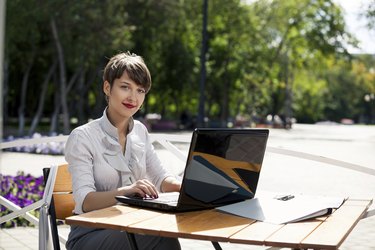 A Ymail account is nothing more than a Yahoo account originally set up with a @ymail.com email address. As a result, you access a Ymail account the same way you would any Yahoo account through the Yahoo online Sign In page, a desktop email client or a third-party app.
Ymail Sign In
To access the Web-based Sign In page, go to Yahoo's home page and click "Sign In" near the top-right corner of the screen. Enter your entire Ymail address in the Yahoo ID field, enter your password and then click "Sign In." To access your email from a desktop client or app, update the IMAP or POP server settings in the program with Yahoo's information and your Ymail email address and then sign in as instructed by the specific program (see links in the Resources).
Ymail Security
If someone set the account up for you with secondary security verification to prevent sign in by a non-account holder from an unrecognized device, or you turned on the feature after registration and forgot, Yahoo will ask you to verify with a mobile phone number or security question. If you're using a third-party app for the first time, Yahoo requires that you access your Account Information page online through computer and generate a one-time app password.
Access Issues
You can't access your account if you use the wrong password or mistype the password. Sometimes old site data can prevent access. Clear your browser's cache and cookies and try again. Additionally, Yahoo ended registrations for new Ymail addresses in April 2013. Whenever a Yahoo account is inactive more than 12 months, the company deactivates the account. If your account has been deactivated, you can't reactivate it or set up a new account with a Ymail address.