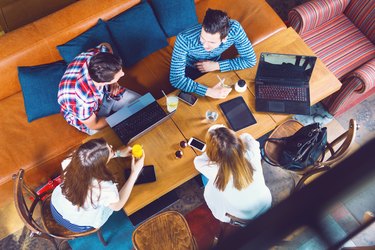 Clip art is a useful tool for sprucing up your PowerPoint presentations and making them visually engaging. In most presentations, it's important to cite your sources when it comes to images and statistics. Clip art is trickier to cite because it is often freely licensed or included with the application. According to the APA manual, you don't need to cite your PowerPoint clip art unless it is used in a separate medium (outside of PowerPoint, such as in a handout), or if your presentation is dedicated to the discussion of clip art and its origins.
Step 1
List the name of the program, followed by its version number in parentheses.
Step 2
Place a description of the clip art format in brackets, followed by a period.
Step 3
Enter the location of the application developer, a colon, and the name of the software producer.
Step 4
Check the formatting. The final result should look like this: PowerPoint (Office 2013) [Computer Software]. Redmond, WA: Microsoft
Tip
If you're citing clip art culled from online sources, the format looks like this: Name of Creator, A. A. (year of creation). Image title in italics [File Type]. Retrieved from www.imagesource.com