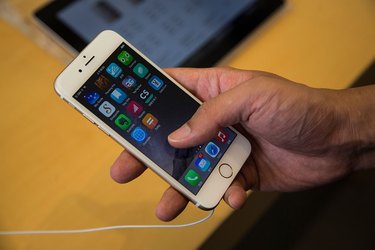 The Safari Settings menu in iOS 8 has a dedicated Clear History and Website Data option that deletes your iPhone's Web cache with one tap. Alternatively, you can enable Safari's Private Browsing feature, which prevents the app from recording your browsing history, instead of manually deleting the Web data through the Settings menu. If you use a non-native Web browser -- such as Opera Mini -- you can remove the app's Web cache by opening its Settings menu.
Delete Safari's Web Cache
Because Safari is the iPhone's native Web browser app, the option to delete Safari's Web cache is located in the iOS Settings menu and not the app itself -- with the exception of the browsing history. Tap "Settings" from your iPhone's home screen, then select "Safari." Scroll down the screen, then tap "Clear History and Website Data." This action clears all browsing data, including the browsing history and cookies. If you only want to erase your browsing history, open Safari and then tap the "Bookmarks" icon resembling an open book. Tap "History," then tap "Clear." The Safari Settings menu also has other specific settings to control your privacy risk, such as the Block Cookies and Do Not Track options. In addition, you can also reclaim storage space by deleting website data through the Advanced section of the menu.
Use Private Browsing
The Private Browsing feature on your iPhone's version of Safari functions almost identically to the desktop version. Once activated, the app does not save your AutoFill, visited websites or search history data. In addition, Safari sends a Do Not Track request to websites asking them not to track your current browsing session. Activate the feature by opening the Safari app, tapping the "New Tab" icon -- resembling two squares -- and then tapping "Private." The app changes color from white to black when the feature is activated. To deactivate the feature, tap the "New Tab" icon again and then tap "Private."
Other Browsers
Unlike the settings for Safari, the option to delete the Web cache of a non-native browser app is accessible through the app itself and not the iOS Settings menu. The specific terminology used by each app may differ, but they all employ a relatively similar method to delete the Web data. For example, you can delete the Chrome, Opera Mini and Mercury Web browsers' Web data through each app's Settings menu.